Official SuperCar Races
Stock Rules


SuperCars Philosophy:
S- Showcase All that participate in the SuperCar ShootOut
U- Unite and make friendships that last a lifetime
P- Persevere to be the best
E- Empower others to act with integrity
R- Reward all accomplishments big and small
C- Celebrate Victories
A- Actively participate in giving back to the community
R- Respect and treat everyone like they're one of us

---
2008 was the inaugural year for SuperCar Races. In 2008, we had many successes, including the running of the Mopar SuperCar ShootOut Series, our relationship with NAS, running a schedule that compliments both series, our partnership with Carlisle Productions to bring factory appearing muscle car racing to their premiere events and our partnership with the Make-A-Wish Foundation®.
The Participants, Sponsors and Fans of Supercar Races don't want to be known only as Musclecar enthusiasts, but want to be known as a group that gives back to the hobby and the community. We have championed many issues and are solidifying the SuperCar Series as the concrete foundation to the style of racing we enjoy most.

We are excited to officially welcome Pure Stock into the SuperCar Family. We want to give our current and future Racers a venue to Showcase their Pure Stock MuscleCars. SuperCar Races prides itself on being the leader in American MuscleCar Racing. In 2011, We will be featuring a venue for all Legal Pure Stockers to take part in. Our Rules will be posted over the next couple of months.
We are moving forward at a rapid but cautious pace. In the next couple of months, we will appoint a Rules Committee that will represent the majority of the Pure Stockers. Our Goal is to give the Pure Stock community a series of events to take part through out the season. This new series will enforce all rules with NO exceptions.
Welcome Pure Stockers 1955 to 1979!


SuperCar ShootOut "Stock" Class Rules
1.00 Body:
1.01 Original appearance must be maintained. No after-market panels of any kind are allowed. No "custom" paint colors, designs, or lettering are allowed.
1.02 Musclecar must maintain the stock ride-height. Raising or lowering either the front or the back of the car is not allowed.
1.03 Musclecar must have a presentable appearance. No primered areas, mismatched paint, or large rust-holes allowed.
1.04 Bumpers must retain all original bracing and reinforcements. Inner fender panels, front and rear, must be retained.
1.05 Factory hood scoops, ram air, and fresh air induction must be correct for the year, make, and horsepower claimed. No after-market or homemade induction units of any kind are allowed.
1.06 Factory air cleaner assembly and original size air filter must be retained and in place during all runs. No after-market air cleaners allowed.
1.07 Interior seating, trim, and materials must be correct for the year and model claimed and functional. After-market tachometers and gauges are allowed if mounted on the steering column or under the dash, except for some factory tachs mounted on top of the dashboard. OEM glass only.
1.08 All windows must be functional, made of original material. and closed during all runs.
1.09 All accessories must be functional: Radio, heater, blower motor, wipers, turn signals, lights, ETC.
1.10 The trunk area must appear stock at all times.
2.00 Engine:
2.01 Engine must be factory correct for the year, model, and horsepower claimed.
2.02 Dealer installed engines and dealer performed engine modifications are not allowed.
2.03 Casting numbers must be correct for the year and horsepower claimed, including: intake manifold, heads, and exhaust manifolds. No Modifications are allowed.
2.04 Blocks do not have to be "numbers-matching," but they must be the correct displacement.
2.05 Over bores up to .070" are allowed.
2.06 Stock cranks only. NO strokers!
2.07 No lightweight cranks, aftermarket cranks, or connecting rods allowed. Oil pan drain plug will be scoped on record runs
2.08 Pistons must be of the original design for the year and horsepower claimed. Replacement forged pistons are allowed.
2.09 Compression ratios limited to one and a half points (1.5) over factory advertised rating. Note a max compression limit of 13.0 to 1 is allowed. Musclecars delivered with higher compression may run factory advertised rating. Clarification- Compression is maxed out at 13.00 to 1, meaning with the 1.5 max you can only go to 13.00 to 1 as an overall max. If your car was delivered with 13.5 to 1 you can run 13.5 to 1, No higher.
2.10 Torque straps are allowed for safety reasons.
2.11 No after-market blocks allowed.
Note, Carburetor, valve cover removal and P&G checks are mandatory once 12.49 E/T is achieved along with a complete mandatory certification.
3.00 Fuel System and Carburetor:
3.01 Carburetor must be correct for the year, make and horsepower claimed. Jetting and metering changes are permitted. Choke assembly must be functional.
3.02 Mechanical secondary carburetors cannot be substituted if vacuum operated units were original to the car.
3.03 Mechanical fuel pumps must be retained.
3.04 Electric fuel pumps are NOT allowed.
3.05 No fuel pressure gauges are allowed at anytime.
3.06 Factory fuel lines must be present and correct size are required.
3.07 Once 12.49 E/T is achieved, Spec fuel will/may be dispensed at the event with a max octane rating for compression allowed for said combination. Propylene Oxide, Nitro-methane, alcohol and nitro-propane are NOT allowed.
4.00 Exhaust:
4.01 Cast iron exhaust manifolds are mandatory and must be correct for the year, model and horsepower claimed.
4.02 NO internal modifications to the exhaust manifolds are allowed.
4.03 Under no circumstances will headers be allowed, including those cars that came with headers delivered in the trunk.
4.04 Exhaust system may be upgraded to a maximum of 2.5-inch head and tail pipes. Pipes must be routed as they were originally for the year, make, model, and engine combination.
4.05 Mufflers must be stock-looking in design, that is, oval in shape. No glasspacks or straight-through pipes allowed unless installed as original equipment.
4.06 Maximum muffler inlet and outlet size is 2.5 inches.
4.07 X Pipes and H Pipes allowed.
4.08 Exhaust must be to factory specs with a pipe diameter no larger than 2.5 inches unless delivered from the factory with a larger diameter
5.00 Camshaft:
5.01 Camshaft must be correct for the year, model, and horsepower claimed for duration, lift and type of lifter (hydraulic or solid).
5.02 No roller cams allowed.
5.03 Engines must be able to produce at least 16.0 inches of vacuum at 1200 rpm. If camshaft is still questioned, Engine idle noise level may be checked using Radio Shack Meter 33-2055 Set on Filter C, Slow response. Engine Idle will be measured @ 1000 RPM's in neutral or park, standing 3 Ft. away from the back bumper at waist height, the car in question must not exceed 100 Dba on the said meter.
Note, Carburetor, valve cover removal, distributor removal and P&G checks are mandatory once 12.49 E/T is achieved along with a complete mandatory certification.
6.00 Valve Train:
6.01 Valve train must be factory stock for the year, make, and horsepower claimed.
6.02 Rocker arm ratio must be correct for the year and horsepower claimed.
6.03 Roller tip rockers are NOT allowed.
6.04 OEM-style replacement lifters only.
6.05 Poly-lock type adjustable nuts, jam (crimp) nuts, and adjustable pushrods are allowed.
6.06 Valve covers must be correct for the year, make, and horsepower claimed.
6.07 Maximum valve spring seat pressure allowed will be 130 psi.
Note, Carburetor, valve cover removal and P&G checks are mandatory once 12.49 E/T is achieved along with a complete mandatory certification.
7.00 Pulleys:
7.01 Pulleys must be factory issue, and they must have the correct diameters for the year and horsepower claimed for the engine. Deep groove pulleys allowed ONLY if of the same diameter as original
7.02 Belts running the water pump, alternator, A/C and power steering must be retained at all times. No exceptions

8.00 Ignition System:
8.01 Ignition system must be stock, including the distributor, cap, coil, and wires.
8.02 Points may be replaced with any electronic conversion that fits under the stock distributor cap.
8.03 Replacement coils are allowed as long as they are the correct shape, color, and size. Coils must be mounted in the correct location with correct brackets for the make, year, and engine combination.
8.04 Spark plug wires must be of correct appearance in size and color for the vehicle.
8.05 Ignition boxes allowed for ignition and rev. limiter purposes only up to 12.49 E/T.
8.06 Ignition boxes must be hidden to maintain stock appearance under hood.
8.07 Once you run 12.49 or quicker you must go back to a factory original ignition system
8.08 Musclecars may change to an under the distributor cap rev limiter like Crane, Accel, or approved stand-alones like MSD 8728, Pertronics 600, Davis Unifires Ignitions 380777, Autometer 5301. Note After market ignition boxes and aftermarket coils are allowed up to a 12.49 E/T and are limited to factory sealed MSD 6 and 6AL. Data recording devices are not allowed.
9.00 Cooling System:
9.01 Radiator must be correct for the year, make, model, and horsepower claimed.
9.02 No lightweight, aluminum radiators allowed.
9.03 Overflow catch cans of at least 16 ounces are required.
9.04 Radiator shrouds must be correct for the application.
9.05 Fan must be factory original and correct for the year, model, and horsepower claimed. No after-market "lightweight" flex-fans allowed.
10.00 Electrical System:
10.01 Battery must be retained in the original location and securely fastened down with the original style hold down.
10.02 Charging system must be fully operational at all times. The removal of the alternator belt is not allowed.
10.03 Lightweight batteries are not allowed.
11.00 Drivetrain:
11.01 Automatic Transmissions: The transmission and torque converter must be correct for the year, make, and horsepower claimed. Torque converters must be within one inch of O.E.M. diameter and have a stall no higher than 2200RPM's. Unless documentation proving higher than 2200rpm.
11.02 Shift improver kits are allowed. Aftermarket shifters are not allowed, with the exception of an after-market H-pattern shifters, if no modifications to the floorpan are necessary.
11.03 No manual valve bodies.
11.04 No lightweight purpose-built drag racing transmissions allowed.
11.05 Manual Transmissions: The transmission must be correct for the year, make, and horsepower claimed.
11.06 Line locks are allowed. All wires and unit must be hidden, no exceptions.
11.07 Scattershields are allowed.
11.08 No conversions from column-shift to floor shift allowed unless available as a factory option.
12.00 Rear Axles:
12.01 Rear axle must be of the same manufacturer as the car and originally available with the transmission and engine combo. Note, no gun drilled light weight axles, no lightened ring gears, no spools, no aluminum driveshafts.
12.02 Any gear ratio is allowed.
12.03 Driveshaft safety loops are mandatory on all cars 13.99 and faster.
13.00 Suspension:
13.01 Front stock springs and shocks must be retained. Drag springs and shocks are NOT allowed.
13.02 Front sway bar must be retained, and it must be functional at all times.
13.03 Rear suspension traction devices are limited to hop-stop bars for the upper control arms on coil-spring cars. Rear shocks, stock replacement type only.
13.04 Factory pinion snubbers and clamping of springs are allowed on leaf-spring cars.
13.05 No slapper bars or ladder bars of any kind are allowed unless originally equipped at the factory. Factory documentation will be required to prove authenticity for any car equipped with bolt-on traction devices.
13.06 No dealer-installed traction devices allowed.
13.07 After-market upper and lower control arms for coil spring cars are not allowed.
13.08 Stock ride height must be retained at all times.
13.09 Leaf springs must be same amount as stock, using correct materials.
14.00 Tires, Wheels & Brakes:
14.01 Reproduction tires or radial tires only.
14.02 No soft compound tires of any kind allowed.
14.03 Retread tires are not allowed.
14.05 Tire size must approximate what was originally installed on the car. All four tires must be the same size.
14.07 Musclecars built before the introduction of 70-series are allowed to upgrade to 70-series tires of appropriate size for the car. Please Call, PM or E-mail for clarification.
14.08 Factory wheels only. Wheels must be correct in size, offset, and style for the car's make, model, and year.
14.09 All four wheels must be the same size, offset and must be of correct material.
14.10 Tire Tech: All the repop tire treads are similar in design, 4-6 deep circular tread grooves with smaller grooves and sipes within those rows. There must be evidence of the original main tread grooves over the whole tire to be legal. Any bald sections or patches where the original main groove disappears and the tire must be replaced. Most important if your tires are questionable, make sure you bring an extra set with you to qualify and compete. Tires will be inspected before during and after the event is completed and must have all of the main treads showing. Tread/rubber softener treatment not allowed. A durometer test will be done to compare tire softness to manufactured specs.
14.11 Factory OEM Brakes ONLY.
15.00 TRACK TECH:
15.01 All track safety rules apply and you must pass track tech.
When required by track safety rules, roll bars and aftermarket seat belts will not be cause for disqualification.
16.00 Certification:
16.01 Certification may include but is not limited to inspection or removal of the following- Carburetor, Cylinder Head Removal, Check CC Heads, Piston Inspection, scope through the oil drain plug, Valve cover removal, coil inspection, Distributor removal, torque converter inspection. P&G checks are mandatory once 12.49 E/T is achieved along with a complete mandatory certification. Once 11.99 E/T is achieved, exhaust must be to factory specs with a pipe diameter no larger than 2.5 inches unless delivered from the factory with a larger diameter. Musclecars may ask for Certification at any E/T. Certification may be done ahead of time, Contact Ralph Barbagallo to schedule an appointment.
17.00 BANNED FOR LIFE:
17.01 Nitrous, traction control, Data recording devices are not allowed. If caught with any of the above mentioned, you will be banned for life.
18.00 BEST 2 OUT OF 3 SHOOTOUT:
18.01 Entire field runs Heads-up 2 out of 3 Match Race. .500 pro tree, First round lane choice is awarded to the car with the quicker qualifying ET. Racers must alternate lanes in all subsequent rounds. .400* break out rule.
*Break out rule of .400 in affect in all 2 out of 3 Match Races. If competitor runs .400 quicker in competition than the qualified E/T, The competitor will forfeit all rounds of competition.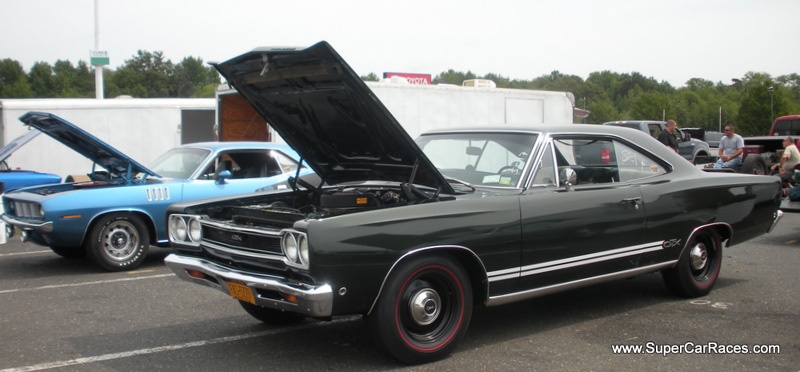 Official SuperCar Races
"Stock" Class Rules Committee